Quiet and Clean Air for Global Customers
Blower supply clean air.
A linear motor driven free piston type pump is integrated in the resin soundproof/rainproof casing
and provides a quiet and clean living environment for the global customers.
Examples of our product lineup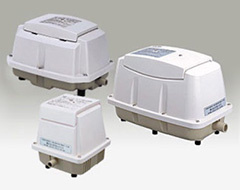 The first dedicated CUPLA for fuel cell vehicles in Japan developed by our company. Used for connections of devices to fill high pressure hydrogen at hydrogen stations.

Septic Tanks for Residences

Cultivation, Live Fish, Fluid Agitation, Blasting
Safety Guide/ Related Information
Please refer to the catalog of the Air Compressors & Vacuum Pumps.